Meet the Chef
Chef Adam J. De Lurgio (A.A. B.S.)
Adam started his cooking career in 1985 and has never looked back. As a native Southern Californian he was schooled in some of its finer restaurants and institutions before being accepted to The Culinary Institute of America in Hyde Park, New York. Upon graduating in 1990 he accepted a position with Ritz Carlton Hotels as part of the opening team for the Ritz Carlton Huntington Hotel in Pasadena, California.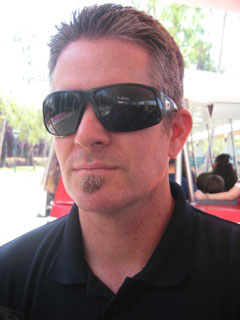 Two years later Adam decided to continue his education and was accepted to Florida International University, School of Hospitality Management in North Miami, Florida. Adam desired to build on his managerial skills, while further honing his culinary talents in two of Florida's Five Star properties. The Boca Raton Resort and Club and La Vieille Maison Restaurant of Boca Raton, Florida proved to be an excellent experience both as a Pastry Sous Chef and Saucier.
Upon receiving a bachelor's degree in hospitality management, Adam returned to California where he embarked on his career in entertainment catering. Since 1995, Adam has dazzled the likes of numerous television series, feature movies and countless commercial productions. His professional culinary background and management skills have proved to be a winning combination among Hollywood's elite.
Adam has always lived a healthy active lifestyle. He shares a great passion for motorcycles, fitness, outdoor activities, family, and of course food. Chef Adam's love for food translates into flavorful, healthy and vibrant cuisine.